It is complex to establish and grow a business. To begin, you need to have a feasible idea. You must then identify a profitable market. Gaining your google traffic, goods and/or services in the eyes of consumers can be an exciting opportunity, regardless of whether you're a small-scale business owner or a part of a bigger social media team. Knowing how to cater to your potential customers requires a wide variety of abilities and knowledge, and knowing how to devise a breakthrough B2B and B2C marketing strategy can be crucial.
Whether you are a b2b marketing agency or a b2c advertising firm, it is super important to understand some of the core strategies which will help you make a solid power plan to glue your target audience.
After all, no number of ads could save your firm if you don't comprehend the mindset of your prospective clients. Each approach, when employed successfully, holds the ability to achieve impressive results that will revolutionize your venture.
So, what would be your alternatives? To look at it another way, you should take a second look and evaluate the foundational intricacies of your punch line and how to reach a wider audience productively. Today in this blog post, we will emphasize business strategy planning that will sincerely assist you in your company's growth with no bells, whistles, or grey areas.
Why does my business need a marketing strategy? 
Marketing is critical to the success of any business. It allows you to reach, communicate and build authentic relationships with your target audience, which is inevitably why your business will foster in the years to come.
Marketing is essential because, without it, your business will fail. After all, it will not see. But the importance of digital marketing in business comes down to one thing. Marketing without a plan is one thing; promoting your company with a strategy is quite another.
The outcomes are somewhat dissimilar. This is where the importance of online marketing checks in. Six bold steps come only upon creating a bomb marketing strategy.
Create measurable Goals
If you can measure your marketing goals clearly without any but and if, you are half the way there! Once you have measurable goals, you can measure which one is turning heads for you and which ones need your attention. Possessing this clarity, whether for indicators like ROI, engagement, or conversions, can undoubtedly assist you in narrowing down and optimizing your advertising efforts.
Consistency
It's easy to start a campaign, but it's easier to stick to it once it generates possible results. That's where the importance of digital marketing lands.
A winning marketing strategy will create a clear blueprint and motivate you to go further. Simply put, with a plan comes consistency, and with consistency comes extraordinary search results.
Stick With Your Budget
What else do you anticipate achieving by putting ads on the internet? Do you desire to increase the google traffic to your webpage? How can you get more residents to contact you? With smart marketing campaigns,
You can specify a maximum quarterly budget so that you have a crystal-clear portrait of your expenditure.
No more or no less. Just sticking to your marketing strategy saves a ton of your money.
Better Service To Your Customers
Once you have a strategy, you get a clear roadmap for communicating with customers. You are aware of their personas and frustrations and how to serve them and help them effectively. 
The importance of online marketing strategy jots down to one single point, how well and to what extent you make your consumer's life easy. 
Getting More Investors
While businesses drive economic growth, they are indeed creating a highly competitive financing landscape. A clever marketing strategy is among the few techniques readily available to companies seeking to locate and attract more investors and google traffic.
Potent investors, like consumers, will only find you once you spread the words of wisdom. 
In short, by incorporating traditional and digital marketing techniques, you increase your chances of capturing the attention of that one human who could mean drawing the line between success and failure.
Coordination 
If the company is dragging in opposing paths, with distinct or paradoxical decisions made in multiple marketing jargon, the firm's positioning strategy will quickly deteriorate. This is the one and sole importance of digital marketing strategy, and its straight breakthrough strategy will make the next steps more visible and easy to accomplish. In short, with a proper strategy in place, your ROI and search results can jumpstart to the next level.
Steps To develop a winning marketing strategy
Enough of the pre-workout. Now that you have clear and practical goals, it's time to discuss the master plan.
The most effective marketing initiatives assist you in hitting the return on investments like never before. Once you've established your control, you'll be able to employ a plethora of more efficient marketing tactics.
When it comes to brand strategy development, certain steps will help you in breaking all records.
Even though the basic steps fluctuate depending on the nature of the organization, these can be used as a starting point while creating a plan that brings google traffic conversion.
Step 1:
 Determine Your Goal and Budget 
Every company requires a strategy. An advertising strategy must begin with a goal, cost estimate, or budget. 
This is possibly the world's largest and only unrestricted marketing strategy. Furthermore, as per CoSchedule's 2018 marketing statistics list, marketing people who plan for their initiatives are 429% more likely to experience victory.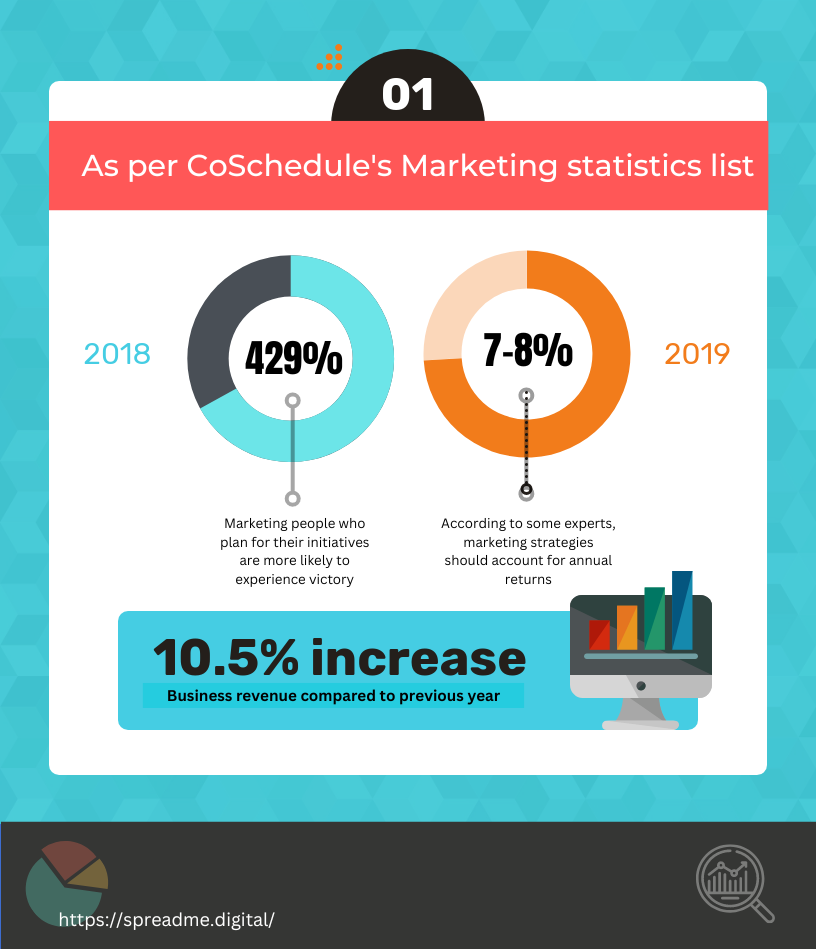 This largely forms a 'what and how of your company – a summary of what you would like to accomplish and how you envision achieving it. A further step is to formulate a proper budget; according to some experts, marketing strategies should account for 7-8% of annual returns.
Step 2:
Identify Your Target Audience 
Developing a business plan is only possible if you know who you want to sell to and what part of the audience needs your services/products. At this point, you should identify your target audience and deem your buyer persona.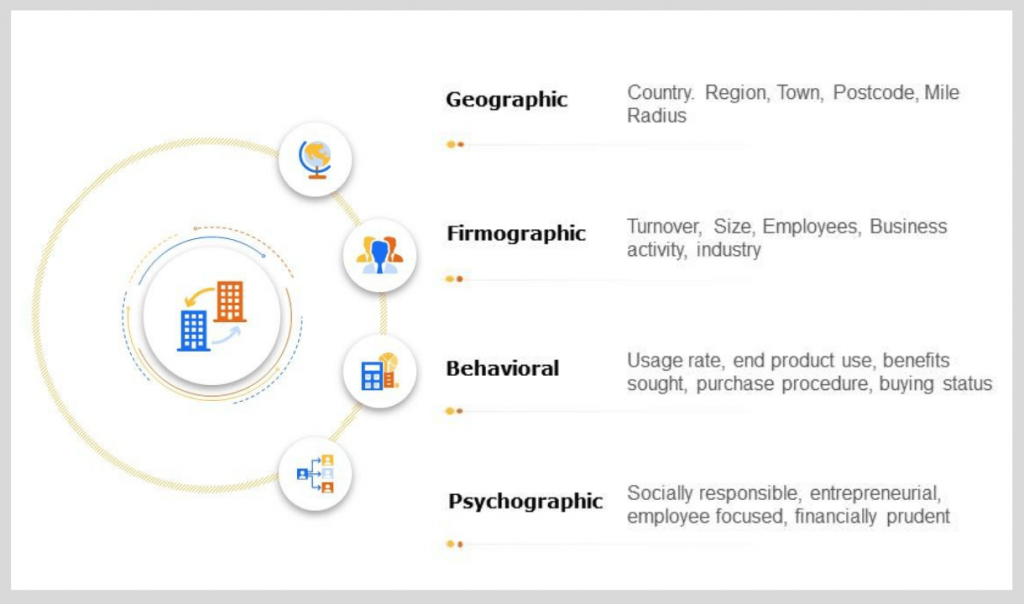 When devising a marketing strategy, you must foresee your customers' wants and how effectively you will encounter them more successfully than your rivals. Understanding the specifics of the people you're attempting to communicate with allows you to consider how you'll proceed. It contributes to much more specific and pertinent marketing, raising its likelihood of driving growth.
Step 3:
Create Your Message
A strong message is a foundation upon which you can strengthen customer engagement. If your message still needs to be delivered to the relevant players, it will be perceived as junk by those who receive it.
Depending on the level goal of the marketing plan, consumer messaging strategies can take various forms, such as emotional commitment, positioning statement, or unique selling proposition (USP).
Step 4:
Develop your marketing Strategy. 
Your marketing strategy explains how your advertising agency will require certain assets, undertake specific actions, and set definite targets over the entire year. Your market development strategy also includes the concrete steps you'll require to accomplish that plan. By this time, you ought to already have your overall business strategy goal in mind, so think about how to define performance with your particular marketing task. 
 You can employ a variety of metrics, but you must highlight some before you continue your task.
Step 5:
Implement Your Marketing Campaign 
Implementing your marketing campaign is the process of carrying out your marketing strategy and allocating the entire team to implement it, ascribing deadlines to accomplish projects, and
Making the collateral required to meet your sales targets. It is like the clock process, which includes optimizing workflows, setting deadlines, monitoring, hiring, and building a team for your ultimate winning strategy. It is one of the crucial yet hectic steps of the entire strategy.
Step 6:
Measure & Analyze Your Results 
Once your market development strategy is in place, you should take a step back and consider how your ongoing actions and growth fit into your eventual objective. Determine where your crew is in the overall timeline and see if they are generating the expected outcomes. 
You may also get a clue if you intend to broaden your squad and rebalance your team's skills and experience. Brand strategy development is not a straight road; you have to do little experiments here and there. However, broad marketing strategy saves time while saving you from marketing gimmicks.
Top 6 B2B Marketing Strategies 
Content Marketing
Content marketing is a technique to attract, hold, and convert website visitors.
Besides, a content marketing strategy is merely a plan of attack for producing, publishing, and promoting content assets to achieve a specific goal.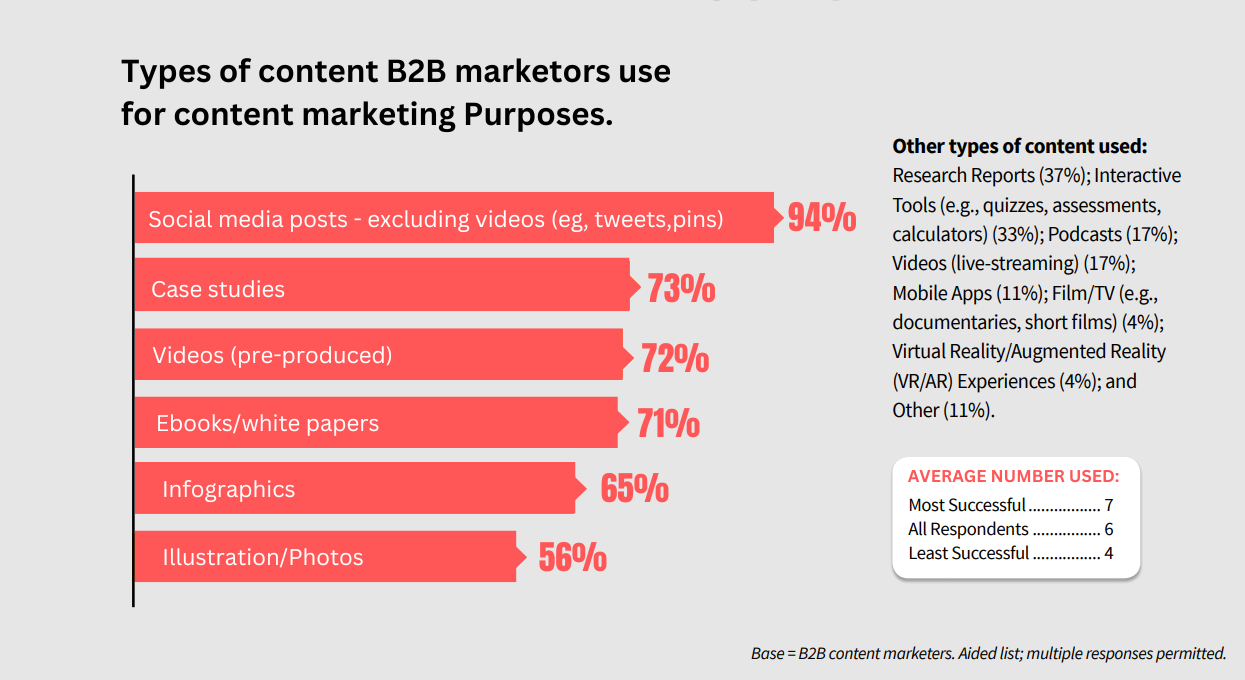 Moreover, this is the finest and easiest option among b2b marketing strategies.
Why is this important?
Through content marketing, B2B companies may show that they share the same values as their customers. Since you rarely sell in huge amounts, as you might with B2C enterprises, developing relationships is essential in this sector. 
Imagine your article is about selling jewelry, and you should have mentioned it. What impact will it have? 
For this reason, you should write to the point but hitting type of content for your market.
Social Media Marketing
If you are looking for a b2b marketing strategy, from our renowned experience, you should go with a social media marketing agency to get things sorted while avoiding chaos.
Every part of your social media marketing should be carefully considered, with a special emphasis on logistics. Using data and the latest stats lets readers know why something is significant. Many B2B businesses also produce several posts to encourage users to return to the social media page for more information and new analytics.
Search Engine Optimization
The majority of B2B marketers are aware of the importance of SEO but are afraid to use it due to time and financial constraints or simply because they are still determining where to begin.
Is there any negative impact of using a search engine optimization agency on your marketing strategies?
Nope, this is not the case; SEO is and will be an excellent tool for any B2B marketing, at least for the coming decades.
Here are three explanations for why B2B marketers should take SEO seriously:
1.) Search Results for Many B2B Terms Aren't Crowded Yet
Hiring SEO with content marketing can increase their brand's visibility. Businesses with higher SEO ranks are almost certainly selling more things and making direct sales.
2.) SEO Can Increase the Value of Every Content Effort
When done well, your content aids in the development of consumer confidence in your company. Your customers want to know that the suppliers they do business with are knowledgeable, dependable, and trustworthy, especially in B2B transactions.
The things which create impactful SEO are keywords, User Intent and your target audience completes the list to understand and put through SEO in simple points.
Pay-Per-Click
When someone clicks on your advertisements on internet platforms, you must pay a little fee known as pay-per-click (PPC).
Your payment is only reimbursed for the traffic that the adverts produce. Therefore, this is one of the best options for companies looking for high performance on a tight budget.
Some of the well-known PPC advertising platforms include Google Ads, Facebook Ads, Microsoft Ads, and others. Many people believe Google ads to be more beneficial.
What is the importance of pay per click agency? Well, there are many!
Cost-effective Approach

Instant Traffic

Warm Leads

Leads to Good ROI

Helps your SEO strategies

No Algorithms

Multi-layered Targeting Options
Email Marketing
Unlike most email marketing initiatives, B2B campaigns target businesses, specifically several people within a single business.
A B2B target is a group of targets, and your plan must consider the variations among various contacts inside a firm. An easy way out must be to look for the guidance and assistance of an email marketing agency to help you through the process.
Conversational Marketing
Said, conversational marketing is a conversation. The right information is put in front of prospects and customers at the right moment with real-time interaction via a chatbot or live chat, and any follow-up queries are answered straight away.
If you need help delivering your content, this is the easiest way.
Marketing through conversation is successful because it:
1.) Delivers a genuine, personalized client experience by removing impersonal lead capture levels.
2.) Promotes straightforward communication since customers can more easily express their demands, and businesses can more easily comprehend and help when the request is made in the proper context.
3.) Connections are strengthened since bots can suggest more content to support buyer education.
Top 5 B2C Marketing Strategies 
Influencer Marketing
Knowing your consumer is the first and most important step in making B2C marketing effective for your company. You'll struggle to provide pertinent content if you don't grasp your clients' motives, issues, and goals. In the case of B2C marketing, many influencer marketing agencies are there.
Such reaching influencer marketing agencies may even be effective in the B2C market, but they are of little use to B2B businesses. However, B2B marketing is typically not about intricate efforts that aim to reach as many people as possible.
Paid Media
Paid media is a powerful technique used by businesses to generate traffic to their websites. PPC (pay-per-click) links are one of the most well-known kinds of paid advertisements.
It is a form of compensated marketing where a company is a charge each time a user clicks on an internet ad for a certain website. According to statistics, PPC can produce a high ROI when implemented properly. Before organic search and social channels pick up, PPC advertising can help any niche establish early popularity.
These advertisements direct people to landing pages with calls to action. Paid media marketing agency helps to promote their B2C marketing.
Video & Audio Content
For your successful B2C marketing, one of the best b2c marketing agencies delivers messages via video and audio.
B2C marketing is transforming into a highly specialized industry that needs professional analysis and implementation.
With the help of videos and audio marketing, advertising can help you to boost interaction on your digital and social media platforms, inform your audience through a new medium, and enhance engagement.
E-Commerce
Do you run a B2C online store? Is it becoming more difficult to sell things because of the competition in the market? If so, you landed on a perfect page. As a customer-driven business.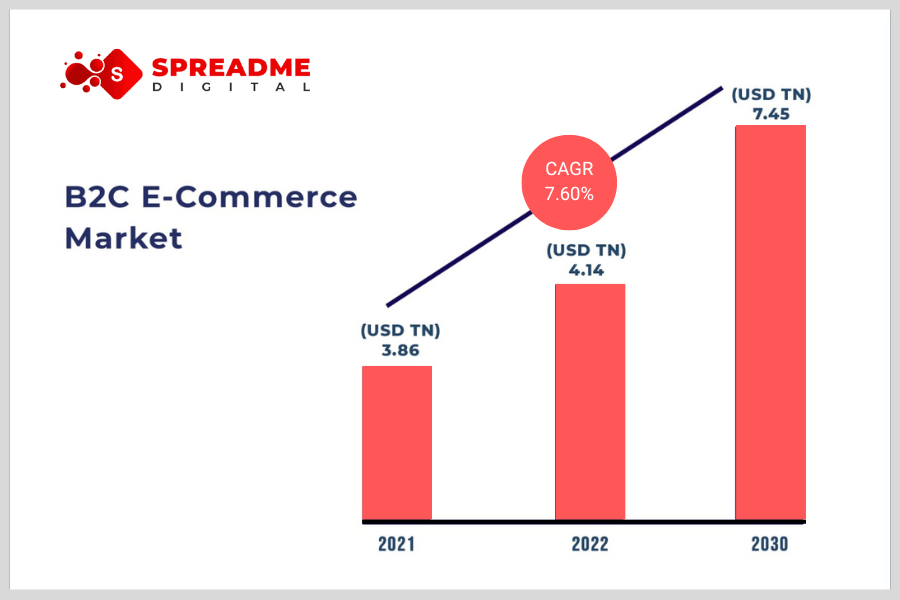 Furthermore, in any B2C marketing, an e-commerce marketing agency plays a vital role.
Increasing traffic to your online business demands a number of e-commerce marketing methods. Mostly customer-centric, emotionally driven sales are the main focus. Sincere to say, "the sales" are always the end outcome. Without a doubt, it is crucial!

But in addition to that, you should concentrate on boosting brand recognition, inspiring client loyalty, and boosting consumer engagement. These all may seem like silly topics, but they are highly important.
Conversational Marketing
Live chat or a chatbot in real-time conversations with prospects helps you get the right information in front of them on time and enables them to respond quickly to immediate questions. This kind of targeted connection successfully enhances the user experience.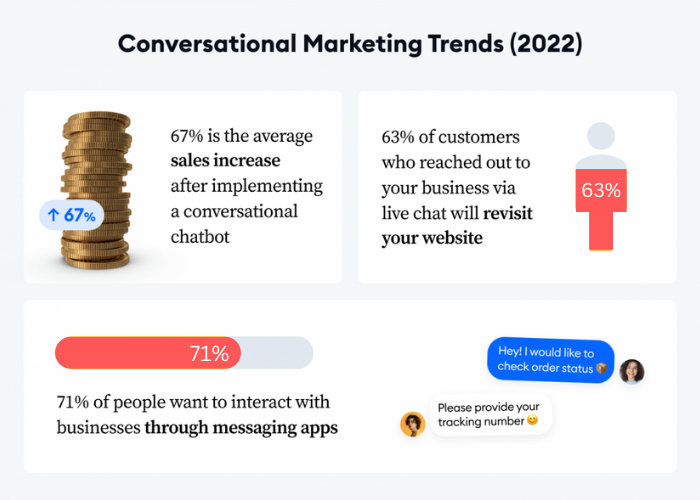 B2C companies can benefit most from conversational marketing since it expands customer service and shortens clients' time in the sales funnel. If a company offers live chat help, up to 51% more customers are likely to make additional purchases.
So, this is how a conversational marketing agency can benefit you in your B2C marketing to achieve broader business goals.
SpreadMe Digital
Our reporting metrics measure a performance, quality, and efficiency of your business