Generating traffic is very important, but it is not ultimate. Let's see an easy way to find your target audience. 
Big marketing companies like hub spot generated 35.89 million visitors a month in May 2021. They generated 586.09 million dollars in revenue. Impressive!!
When we look at it from a unique visitor's perspective, HubSpot does excellent.
Why is that? Because HubSpot goes after a targeted audience. It is that simple, but many companies are failing to do that. If you figure out how it works, then bang! You have your visitors.
We will talk about how you can improve the number of visitors by avoiding simple mistakes. Marketing is challenging, so why do you have to waste your time going after the wrong people?
It causes you a waste of time and money.
If you are a newbie, your first step should be to define your audience, the first and most essential step toward growth for most companies or businesses.
What is the target audience?
Reach out to people to sell your product as your target audience through your advertising efforts.
You target people who are interested to buy your stuff.
The primary purpose is to target a group of people with education, goals, interests, and problems as your ideal customers.
If you target an audience who is not interested in buying your stuff or didn't mean to buy it, then it is a total waste of time and money. You are going nowhere. You might get more traffic, but it is not much for you. You might be having pain in the brain, and you will be thinking why none of the visitors are buying from you.
Before we dive into more detail, first discuss identity because many people still confuse the targeted audience concept, and because of that, they flip here and there without any direction.
Let's talk about differentiation.
Now you have a clear picture of the target audience concept, I hope.
Here are some points that define the target audience.
Age

Gender

Education

Social class

Location

Purchasing power

Consumption habits
Example of target audience: man, 40 to 50 years of age living in a Chicago, US with a graduate degree, monthly income of $10000-$12000, and passionate about playing the piano.
If you don't know about your target audience, you may be hit the wall hard. So first, know your targets.
Let's talk about another example.
Suppose your business sells sports equipment. So, your target audience should be children, young people, sports person, schools, etc.
Or you have a product for small babies. Your target audience should not be unmarried people or, let's say, people who don't have children.
Now let's move to the identity.
What is a customer's identity?
Identity is like an outline of buyers or, let's say, profile of buyers that would be your ideal customers.
To reach out to your targets, you should know some characteristics which are found common in your targeted audience. A person may be interested in what you offer since they are connected to your brand. You must make an effort to convert them into clients and retain them.
Identity requires more detailed research since it includes:
Personal characteristics

Purchasing power

Lifestyle

Interests

Engagement in social network

Professional information
Identity example: 
Linda, 30, model. Live in Los Angeles. Has a fashion designer degree. She Has a YouTube channel about the new trend in the fashion world. Has a blog and posts makeup tutorials about fashion tips. She always follows other well-known people in the fashion industry. She is very concerned about what people see on her social media. She always participates in fashion-related events and meetings. Meanwhile, she loves music and enjoys outdoor parties in her free time.
See, the main difference between identity and target audience is target audience consider a study of the common group of people in a general way while Identity is more specific—more in detail.
Why finding a target audience is important?
It doesn't matter if you are pouring content on social media without considering your research about the target audience.
This is a bit too fuzzy because not everyone wants more traffic is good for an ad agency.
They want to be famous on Instagram and YouTube. Maybe they gained a few followers, but it did not help generate more income.
Some people are interested in gaining more followers on social media rather than learning about SEO.
Once you know about your target audience, you can research your keyword more easily. For example, I know I should not waste my time writing about "how to gain more followers on social media," even though its search volume is high. Those traffic cares more to bring irrelevant traffic and waste your time and money.
Once you find your target audience, you can now perform keyword research correctly. It does not just drive tons of traffic, but it also helps grow revenue.
Now let's know about your target audience.
Make Your Business Authentic
We Convert Your Audience into Your Customer
How to identify your target audience: 6 questions to ask
Figuring out your target audience is not difficult. You have to ask a few common questions.
Only six questions to ask.
Let's understand how it works. Go through each question below, and you exactly know your audience.
When you think about your audience first thought came to mind is the people who are following you on social media. Who like, comments,
If someone is interested in engaging with you and interested in your brand, then chances are they are your target audience.
In many cases, it happens when your ideal audience may not be inactive on social media, but they frequently buy from your company or sign up for your service.
If someone bought your product once, consider your target audience, as the person who bought from you might be buying from you again.
Customers love to feel special.
Sam Walton said, "there is only one boss. And he can fire everybody in the company from the chairman or down, simply by spending his money somewhere else."
Your relationship with the customer must remain the same after the purchase is completed. That's why the post-sales process is essential.
1) What are their greatest difficulties, concerns, or desires?
Try to understand from their perspective. Put yourself in their shoes. Don't think yourselves when it comes to problems, desires, difficulties.
Analyze their behavior. Don't matter if you can't think what they want? You can do research, based on that you can understand easily.
Understand the difficulties they are facing. Try to help them to solve those difficulties.
2) Where are they searching for information online?
Today's world is like a small village. Information is available at finger tips. Everyone needs information.
Every day a tremendous amount of information is dumped on the internet. Where do you find the answer when you need it most?
Find out communication channels most appropriate for your targeted audience. Try to talk to them. Try to understand what they think.
For example, I know my audience reads marketing blogs and spends a lot of time on LinkedIn and Facebook.
3) What actual benefit do you provide?
This is not about your benefits. We talk about benefits that solve the actual problems of your customers. It is more important than your product offering something extra that others do not in this competitive world.
Everyone wants a solution for their problem. It is your responsibility provides a solution to make their life easier. This is not about an individual or some group of people. This is collective desire.
Make connections with them via social platforms. Try to understand their background, about their life perspective. How your products help them to solve their problem?
What attracts their attention adversely?
When we talk about targeted audiences thinking about negative can also help.
It's good if you know what your targeted audience wants? Is it better if you are considering what your audience doesn't want? With this powerful information, you may have more chances to attract your potential customers. Considering what they don't want is the first step to gaining their approval. After that, you only need to apply other factors to perform effective marketing.
4) Who do they have faith in?
Your company's reputation plays an essential part in building trust and confidence in customers. Why do they trust you? Why do they have faith in you? Ask a question to yourself. This is the last but most important question.
This is why reviewing on an Amazon becomes so essential. Why? It built trust among buyers. They don't buy any product without analyzing product reviews. It helped Amazon to become a million-dollar company.
Customers are super-spreaders of your product. That is why taking care of your customers is very important. They share their experience with your product with their friends and family.
If your product gets a good review, comments, and excellent reputation, customers will be inspired to buy from you.
5) How to create personalized content for your audience?
Now you understand what your customers? And who are they? It's time to create content for them.
Everyone creates content.
If you're just put a keyword on Google, it shows million or billion results for each keyword.
When you search about "best computer" here what it shows.
First, there are various options from Google ads and shopping, with price for computers, according to multiple audience needs and tastes.
Next, there are websites and blogs about information about different types of computers and comparisons.
There is no shortage of search results. You can pick up any topic, and it shows millions of results. Anyone can publish text with no barriers.
How can you make your content more personalized and attractive for your customers.
A million publications are posted every day on a daily basis.
The secret is to target your ideal consumers with your content. Content that can attract your consumers and generate sales.
6) Find the subjects that interest your target audience.
 You can use a different tool to find what your audience is searching for.
You can use Google keyword planner to find the keyword.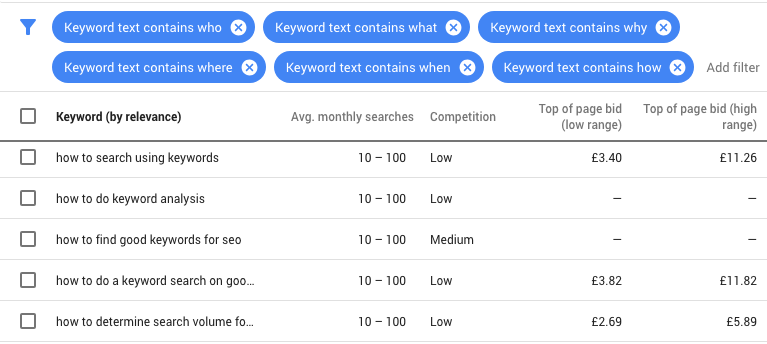 Target Audience FAQ
How would you describe your target audience?
Conduct market research about what they are, what they do, what they like, where they hang out, what challenges they face.
What is an example of a target audience?
Linda, 30, model. Live in Los Angeles. Has a fashion designer degree. Has a YouTube channel about the new trend in the fashion world. Has a blog and posts makeup tutorials about fashion tips.
Why is it important to have a target audience?
Targeting a wide audience is west of time and money; instead of that, investing time in finding a target audience allows you to focus in the right direction to generate sales.
Target Audience Conclusion
Knowing your audience is definitely for a successful marketing plan, but it does not guarantee success.
You need to create content. If you want to reach your audience, you need a perfect plan to promote your content. That is why keyword research is significant.
So it needs lots of practice and specific skills.
So what's your thought about this? Comment below and let me know.
Digital Marketing Agency
We help you to recognize your product, service and convert your audience into your buyers